AUTHOR
Franck Ackermann Coutellerie
70, Boulevard Lafayette
62100 Calais
url: www.couteau-lecalaisien.fr
e-mail: lecalaisien.officiel@gmail.com
Manager: Franck ACKERMANN
RM N░: 434 974 739 RM59
Code NAF: 2571Z
Applicable LAW: Commercial court of Calais.
Essential characteristics of goods and services offered for sale
Goods concerned: articles of cutlery, flatware, tableware, materials and spare parts for the cutlery industry, secondary articles.
IMPORTANT : The products shown on our website have been selected to give you an idea of what we can produce. Nevertheless, the pictures are not contractual. Most of the materials we use are natural, so we cannot guarantee you that the wood or the horns will be the exact same color than what you saw on the screen. Also, our folding knives are unique, the handmade engraved ornament can slightly differ, while respecting the pattern you saw on the screen. Please contact us if you have a wish in particular.
Manufacturing times vary between 10 to 15 days for folding knives. In general, once posted, a delay of 48 to 72 hours is indicated. These times are given for information only as we are manufacturers, and the times may vary depending on the number of orders in progress. Even in the event of late delivery - whether due to manufacturing or transport - they cannot be invoked to cancel an order.
Method of delivery, insurance: Our goods travel at the risk of the recipient who must take any useful action with the carrier in the event of damage or failure.
WITHDRAWAL PERIOD : Within the framework of article L121-20 of the consumer code (modified HAMON VAD 13/06/2014), the withdrawal period is fourteen working days from the day of receipt of, where, products by the consumer. If this right is exercised, we will reimburse you by bank transfer or check (reimbursement made by the same method of payment as that used by the buyer) in euros within 30 days. The sums paid corresponding to the price of the item and excluding shipping costs insofar as the product delivered is returned to us prepaid and in perfect condition, without having been used and in its original packaging.
>> Shipping Fees
THIS DOES NOT CONCERN SPECIAL OR PERSONALIZED KNIVES WHICH ARE NEVER EXCHANGED OR TAKEN OVER (Article L121-20-2 of the French Consumer Code).
GUARANTEE : For cutlery only, the attention we pay to our manufacturing allows us to offer you a lifetime warranty against any manufacturing defect; unless specific details describe in the explanatory sheet that you will have the pleasure to download here: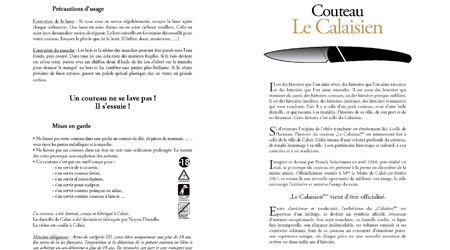 In your interest, it is your responsibility to contact us BEFORE returning anything to us.

Medias . Partners . Honors & Highlights . Legislation
© ACKERMANN 2019 - Web site declared at the french CNIL ---| LEGAL NOTICE |---